Contact us now
Need help!
(+254) 0737055737
Get in touch for general inquiries, pricing & packages or training & consultation
Quick quote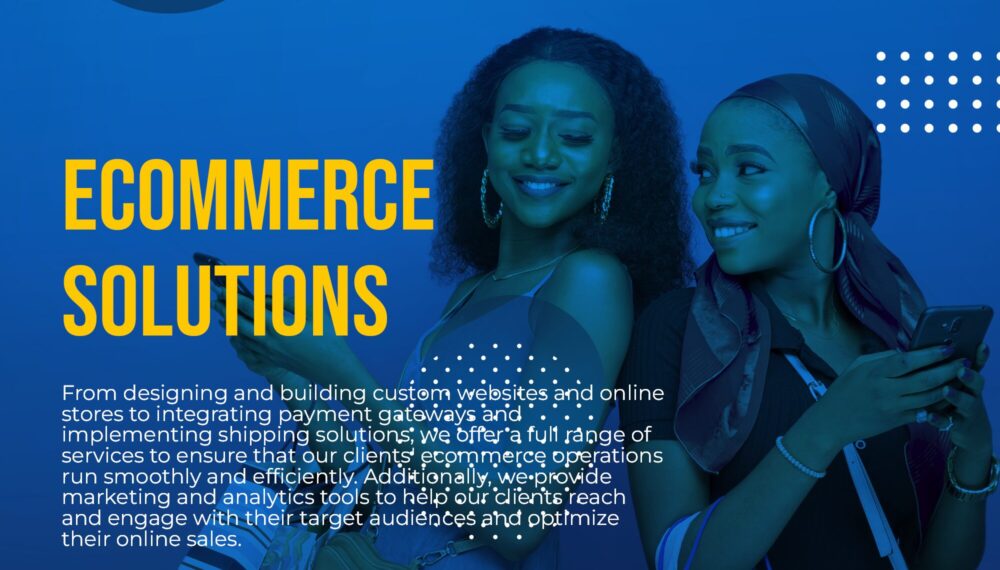 E-commerce Website Design Services
We offer professional ecommerce website design services in Kenya and globally. Our custom and responsive design for platforms like Magento and WooCommerce, combined with our expert SEO services, ensure a seamless and positive buying experience for your customers. Whether you need a web store, coupon, or drop-shipping website, we provide tailored solutions to meet your unique business needs. Contact us today to take your ecommerce business to the next level.
Our e-commerce website design services are tailored to meet the needs of small and large businesses in Kenya that are looking to establish a strong online presence and sell their products or services online. Our team uses the latest tools and technologies to ensure that your e-commerce website is not only visually appealing but also user-friendly and easy to navigate.
Why Choose Our E-commerce Website Design Services in Kenya?
Customized Design: We understand that every business is unique and has its own set of requirements. That's why we create customized e-commerce websites that are tailored to meet the specific needs of your business.

User-Friendly Navigation: We design e-commerce websites that are easy to navigate, which helps to increase the conversion rate and reduce the bounce rate.

Mobile-Responsive Design: In today's mobile-first world, it's essential to have a website that is optimized for mobile devices. We create mobile-responsive e-commerce websites that look great on all devices.

Search Engine Optimization: We optimize your e-commerce website for search engines, which helps to improve your website's visibility in search results and attract more organic traffic.

Payment Gateway Integration: We integrate popular payment gateways like M-PESA, PayPal, and Stripe into your e-commerce website, making it easy for customers to make payments online.

Inventory Management: We help you manage your e-commerce store's inventory, which includes keeping track of stock levels, setting up notifications for low stock levels, and managing product variants.

Order Management: We help you manage your e-commerce store's orders, including processing orders, managing shipping and delivery, and managing returns and refunds.

Security: We take the security of your e-commerce website seriously and implement the latest security measures to protect your website from hackers and malicious attacks.

Analytics and Reporting: We help you track your website's performance using Google Analytics and provide regular reports that help you understand your website's traffic, conversion rates, and other important metrics.

Ongoing Support: We provide ongoing support to ensure that your e-commerce website is running smoothly, including technical support, maintenance, and updates.
Contact Us Today
If you're looking for a reliable and experienced team to design and develop your e-commerce website in Kenya, look no further. Contact us today to discuss your requirements, and let us help you take your business to the next level with a customized e-commerce website
We develop custom eCommerce websites and solutions for companies seeking the most reliable, stable, and secure e-commerce experience.
Have a look at our ecommerce website design packages here
Read more on How to Start A Successful Ecommerce Business
| Feature | Basic Package | Pro Package |
| --- | --- | --- |
| WordPress CMS | Yes | Yes |
| Number of Website Pages | 12 Max | 30 Max |
| Number of Online Products | 50 Max | 500 Max |
| Premium Website Samples | 2 | 2 |
| eCommerce Platform | WooCommerce | WooCommerce or Magento |
| Custom Headers, Footers & Widgets + Mega Menus | 1 | 1 |
| Picture & Image Gallery | 2 | As Required |
| Campaign Landing Pages | 1 | 5 |
| Lead Capture Website Forms | 2 | 2 |
| Social Media & Blog Integrated | Yes | Yes |
| Website Analytics Integrated | Yes | Yes |
| Search Engine Optimization (On-page + Technical SEO) | Yes | Basic Optimization (On-page SEO, Local & Product SEO) |
| Premium Website Security Firewall | Yes | Yes |
| WhatsApp Chat Functionality | Yes | Yes |
| Google Submission & Indexing | Yes | Yes |
| Google Map Location | 1 | 1 |
| T&C's, Custom Cookie & Privacy Policy | Custom Cookie & Privacy Policy | Custom Cookie & Privacy Policy |
| Simple & Variable Products | Yes | Yes |
| Payment Gateway Integration | N/A | As Required |
| Support & Maintenance | 1 Month | 3 Months |
| Delivery Time | 30 Working Days | 40 Working Days |
| Price | $800/website | $2500/website |
As you can see, the Pro Package offers more features and flexibility, including support for a higher number of website pages and online products, more campaign landing pages, and a choice of two eCommerce platforms. It also includes basic optimization for search engines, and more extensive support and maintenance. The Basic Package is more suitable for smaller businesses and comes with a lower price tag
What's E-commerce?

 
E-commerce, also known as electronic commerce, is the buying and selling of goods (or services) electronically over the internet – plays a significant role in the marketplace, both locally and internationally. With many more people making purchases online rather than at a traditional retail store, it's become a rapidly emerging revenue stream for you to strongly consider for your business as you continually plan for growth objectives.
Already have an ecommerce store? Let's us assist you make sales and acquire qualified leads with our digital marketing services in Kenya or internationally.
What's an E-commerce website and how important is it to your business? 
An e-commerce website, by definition, is a website that allows you or online customers to buy and sell a wide range of tangible goods, digital products or services – all online.  These are online portals that facilitate online transactions of goods and services through means of the transfer of information and funds over the Internet.
Here are the Top 10 Tips to Increase Online Visibility for Your E-commerce Store with Product SEO
A functional e-commerce website serves as one of the core components to the success of your retail business. With e-commerce, you can easily introduce your products to a large number of customers at once over the internet.
Core features we include in our e-commerce platform design projects
With every custom e-commerce design project we undertake, we always ensure to integrate functionality that will meet the client's objectives along the buyer's journey – simply meaning, we take into consideration key functionality for all website vistors such as: 
Easily update-able online store for your products & solutions. We offer monthly inventory management for online store owners.

Create sign-ups and user-accounts for your online store visitors.

Leverage data & analytics with an e-commerce store Connected to Google Analytics , Faccebook Pixel and other tracking codes enabling you to make informed business decisions.

Multiple payment gateway integration such as VISA, PayPal, MasterCard and mobile money via vendors ssuch as PayPal and KOPO KOPO. These include – MPESA ('Paybill' & 'Lipa Na MPESA'), Airtel Money, Telkom & MasterPass

Stay helpful and human to your clients with Live chat messaging & automation (Chat & WhatsApp) for you and your team

Measure online traffic & conversion-rate of your e-commerce store and different products. Learn what's a hit or miss in your e-commerce store.

Continual Search Engine Optimization – Attract more customers with buyer intent by continually optimizing store products & services such as Title, tags, categories, schema or even offering discounted store prices for better online sales.

Custom pricing – The e-commerce store contains prices with multiple currency options

Availability of Product reviews and ratings

Well- optimized inventory (store items) to help you get noticed by users on search engines such as Google & Bing.

V.A.T & Shipping costs addition if needed.

Bulk Uploads & edits for multiple products available in sheets in CSV or XML databases.

Variable Products  – A variable product is one that has multiple attributes all-in- one such as color, length, size or even texture. We assist in creating, optimizing and updating the inventory for the same.

Point of Sale Systems

Social Login – Enable your shoppers to login with their prefered social media platforms.

CRM management – Integrate a customer relationship management platform or modules to enable you automate your processes such as Sales, Marketing, Customer Care and Commerce. We are proficient in integrating Salesforce, HubSpot, Bitrix 24, Zoho and others custom to the client.
Send us your request for a quote or consultation
KWETU Marketing Agency is a top consulting marketing agency in Nairobi, Kenya. We offer one-off & renewable marketing solutions to suite your objective and budget.